New collection
Koutsoubidis Men's Store is active in the field of men's clothing since 1982 in the center of Ptolemaida. Our clothes have been synonymous with authentic good dressing for over 35 years. The core values of the company are direct customer service, honesty, quality of products and continuous development. Today , the 2nd generation has taken over the business with new ideas and proposals but maintaining the values that have established the company over time. Taking advantage of the family's many years of experience in the field of trade since 1982, the store continues to operate with the same dedication and love for the object. In 2016, the second generation of the family started to operate in the field of casual clothing and footwear, satisfying the demands of the young audience of the time.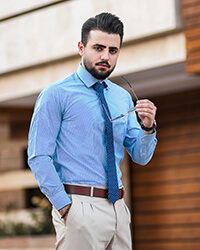 #SUPPORTYOURLOCAL
Consider the small players before you automatically buy from larger companies.
#MADEINGREECE
Made in Greece! We support renowned artists, projects of cultural institutions and reliable companies that give life, shape and disseminate elements in Greek.